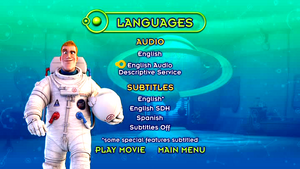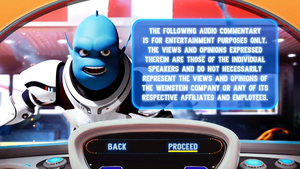 Audio commentaries are located on separate audio tracks on a DVD, or Blu-ray. A single DVD can have several separate audio tracks that can be selected by the viewer from the main menu of the DVD or by pressing a designated button on the remote. The commentaries are also located via languages menu.
The bonus track consists of comments or insights by one or more speakers, who talk about the movie as it progresses. Depending on the nature of the feature, and the speaker, the track can provide the listener with an added wealth of behind the scenes informative, production insights or just added entertainment.
An audio commentary in Planet 51 is "English Audio Descriptive Serivce" and it's located in the languages menu of the movie on DVD, Digital Copy and Blu-ray. The audio was recorded in a 2009-ish year. Unlike other audio commentaries in some other movies, this audio commentary describes about the scenes in each chapter of the movie.
Recorded in 2012 for the movie's DVD and Blu-ray releases on the film. Director Cal Brunker gave a full length video commentary.