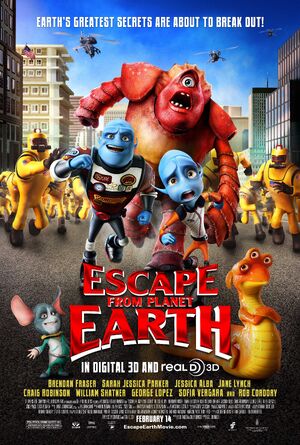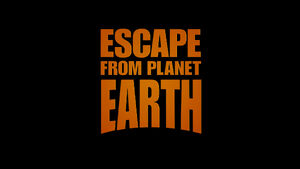 Escape from Planet Earth is a 2013 3D animated movie produced by Rainmaker Entertainment and directed by Cal Brunker. In February 15, 2013, the movie was released in theaters only.[1] This movie features characters including Gary, Eckle and other Baabians from the previous film "Planet 51".
Plot
This movie is long and has a lot of sequences, see Escape from Planet Earth/Plot
Development
The film was in development at The Weinstein Company in 2007. This movie was first announced in a press release from The Weinstein Company, which announced that the film was in full production and also announced the movie's cast.[2]
The film's director is Cal Brunker, who worked as a storyboard designer for other films such as Despicable Me, Horton Hears a Who! and Ice Age: Continental Drift. The film was going to release in February 14, 2013, but it was rescheduled to February 15, 2013 due to schedule conflicts.[2]
Special Features
Songs
See Escape from Planet Earth/Songs for music lists and audio.
Transcript
See Escape from Planet Earth/Transcript
Gallery
For a full gallery of Escape from Planet Earth, see Escape from Planet Earth/Gallery.
Releases
Trivia
Escape from Planet Earth was the first Rainmaker Entertainment film released in 2013.
Sources